Combining Overlay clips to create an Ultra HD (4K) video
Some
Ultra HD (4K resolution)
videos are created by combining four full HD files shot with a 4K camera. Apart from adding Overlay effects, you can use Overlay Tracks to assemble HD videos into one Ultra HD (4K) movie.
To merge HD files using Overlay clips
1
In the
Library
, select the media folder that contains the four HD files that you want to assemble.
Each file represents a quadrant of the Ultra HD (4K) video.
2
Drag each file from the
Library
to an
Overlay Track
on the
Timeline
.

3
Resize the Overlay clips to make them fit into the
Preview Window
.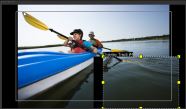 Even if you have not rendered the video, the Ultra HD (4K) video can be imported into a new project as a *.vsp file for easier editing.