Adjusting overlay clips
Achieving different effects for your projects is easy when you know how to use Overlay clips and tracks.
To split a clip in the Video and Overlay Tracks
1
Click
Project
as the Play mode and drag the slider to the part you want to cut.
2
Click the
Split Clip
button

.
To reposition an Overlay clip
•
Do one of the following:
•
Drag the Overlay clip to the desired area on the Preview Window. It is recommended that you keep the Overlay clip within the title safe area.
•
In
Timeline View
, click on the Overlay clip and click
Open Options Panel
. In the
Attribute
tab, click
Alignment Options
and choose from a menu of position options.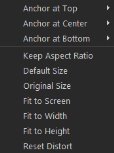 To resize an Overlay clip
•
In the Preview Window, drag the handles on the Overlay clip to resize it.
Note:
If you drag the yellow corner handle, it will keep the aspect ratio when you resize the clip.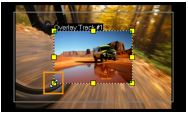 To specify the alignment and size of the Overlay clip
•
Click
Alignment Options
in the
Attribute
tab and click your desired option to achieve your desired effect.
This resizes and adjusts the position of the Overlay clip.
To distort the Overlay clip
•
Drag the green nodes at the corners of the outline box that surround the Overlay clip.

Dragging the green node distorts an overlay clip.
When you select the green node, the cursor becomes a smaller arrow with a small black box at its tail.

Hold
[Shift]
while dragging the green nodes to keep the distortion within the outline box of the current clip.