Adding clips to overlay tracks
Drag media files to the Overlay Track on the
Timeline
to add them as overlay clips for your project.
To add a clip to the Overlay Track
1
In the
Library
, select the media folder that contains the Overlay clip that you want to add to your project.
2
Drag the media file from the
Library
to the
Overlay Track
on the
Timeline
.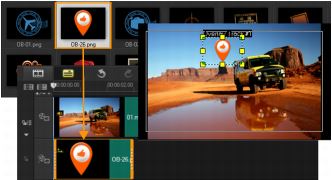 3
To customize the Overlay clip, click the
Attribute
tab. The Overlay clip is then resized to a preset size and positioned at the center. Use the options in the
Attribute
tab to apply direction/style to the Overlay clip, add filters, resize and reposition the clip, and more.