Switching between Timeline views
Two types of views are available in the Timeline:
Storyboard View
and
Timeline View
.
Storyboard View
The fastest and simplest way to organize photos and video clips in a project is to use the Storyboard View. Each thumbnail in the storyboard represents a photo, video clip, or a transition. Thumbnails are shown in the order in which they appear in your project, and you can drag thumbnails to rearrange them. The duration of each clip is shown at the bottom of each thumbnail. In addition, you can insert transitions between video clips, and you can trim a selected video clip in the Preview Window.

Corel VideoStudio Storyboard View
Timeline View
Timeline View gives you the most comprehensive display of the elements in your movie project. It divides a project into separate tracks for video, overlay, title, voice, and music.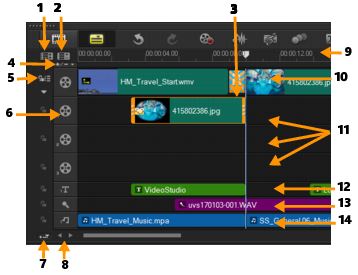 Corel VideoStudio Timeline View
Description

1 — Show All Visible Tracks

Displays all tracks in your project.

2 — Track Manager

Lets you manage the tracks visible in the

Timeline

.

3 — Selected range

Displays a color bar that represents the trimmed or selected part of a project.

4 — Add / Remove Chapter or Cue

Lets you set chapter or cue points in your movie.

5 — Enable / Disable Ripple Editing

When enabled, clips maintain their relative positions when a clip is added to the track. For more information, see

Using Ripple Editing

.

6 — Track buttons

Shows / Hides individual tracks.

7 — Automatically scroll Timeline

Enables or disables scrolling along the

Timeline

when you preview a clip that extends beyond the current view.

8 — Scroll controls

Lets you move around your project by using the left and right buttons or dragging the

Scroll Bar

.

9 — Timeline ruler

Helps you determine clip and project length by displaying the project's timecode increments in hours:minutes:seconds:frames.

10 — Video Track

Contains videos, photos, graphics, and transitions. Note that in HTML 5 mode, you can also have a Background Track.

11 — Overlay Tracks

Contains overlay clips, which can be video, photo, graphic, or color clips. Note the HTML 5 projects also have overlay tracks.

12 — Title Track

Contains title clips.

13 — Voice Track

Contains voice-over clips.

14 — Music Track

Contains music clips from audio files.

You can use the mouse wheel to scroll through the
Timeline
.
Right-click on any track button and choose
Select all media
to select all media clips that are in the track.

When the pointer is at the
Zoom controls
or
Timeline ruler
, you can use the mouse wheel to zoom in and out of the
Timeline
.
To switch between Storyboard View and Timeline View
•
Click the buttons at the left side of the Toolbar.