Saving a project to disc
To output your project to a disc
1
On the
Share
workspace, click the
Disc
button.
2
Choose one of the following output formats:
A new window appears where you can customize the disc output.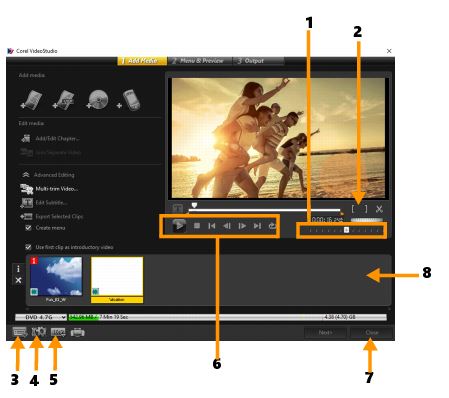 Description

1 — Jog Slider

Lets you jump to specific scenes.

2 — Mark-in/Mark-out

Sets a preview range in the project, or sets the start and end points for trimming a clip.

3 — Settings and options

Lets you access the

Preferences

dialog box and the

Disc Template Manager

.

4 — Project Settings

Lets you determine how your movie project is rendered when you preview it.

5 — Change display aspect ratio

Lets you select between 4:3 and 16:9 aspect ratios.

6 — Navigation panel

Provides buttons for playback.

7 — Close button

Closes the

Create Disc

dialog box and opens the

Save As

dialog box.

8 — Media Clip List

Displays the added media clips as thumbnails.

Even if you have not saved your VideoStudio Pro project as a *.vsp file, it can be brought into the
Create Disc
dialog box for burning.

Imported videos are automatically adjusted to the correct aspect ratio (as specified in the Disc Templates Manager dialog box), and are letterboxed or pillarboxed to fit the correct aspect ratio.
To save a disc output project
1
On the disc output window, click the
Close
button.
The
Save As
window opens.
2
In the
File name
box, type a file name.
3
In the
Save in
drop-list, select a file location.
4
In the
Save as
type drop-list, select a file format.
You can select a file format that is compatible with earlier versions of VideoStudio.
Note:
A check mark

on the disc format button indicates that the disc project has been saved. Click the previously selected disc format button to continue the disc output process. You can also edit the disc project at a later time. Click
File > Open Project
and select your saved VideoStudio Pro project file (*.vsp).