Copying a disc image file
A disc image file is a single file that has captured the entire contents and file structure of a disc. Creating a disc image file on your computer allows you to archive the source disc contents for backup or future burning. You will need sufficient space on your computer to store the disc image file.
To copy a disc image file:
1
Insert a blank disc into your disc burner.
2
Click
Tools
>
Burn from Disc Image (ISO)
.
The disc copying dialog box is displayed.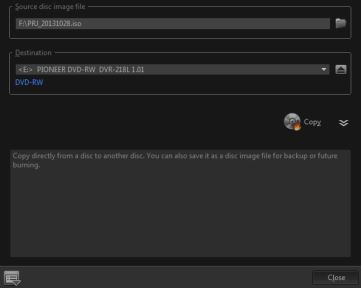 3
In
Source disc image file
, browse and select your source disc image (*.iso) file.
4
Choose your burner drive in
Destination
.
5
Click
Copy
to start copying.

Click

to set burning preferences.